LifePath Christian Ministries' new Oliver Speedseal meal packaging system provides nutritious hot meals any time of day.
LifePath's Penny Beaverson had only been in her position as Administrative Assistant for a few months when she received an unusual phone call on a late Friday afternoon in February. With the office about to close for the weekend, a desperate voice came through the line.
A grandmother had left a dangerous home situation with three grandchildren, her daughter, and her son-in-law. They were all staying in a one-bedroom hotel and were down to their last two cans of ravioli. They needed food to get through the weekend.
"I don't need food for me," the grandmother told Penny, "But I can't not feed my grandkids."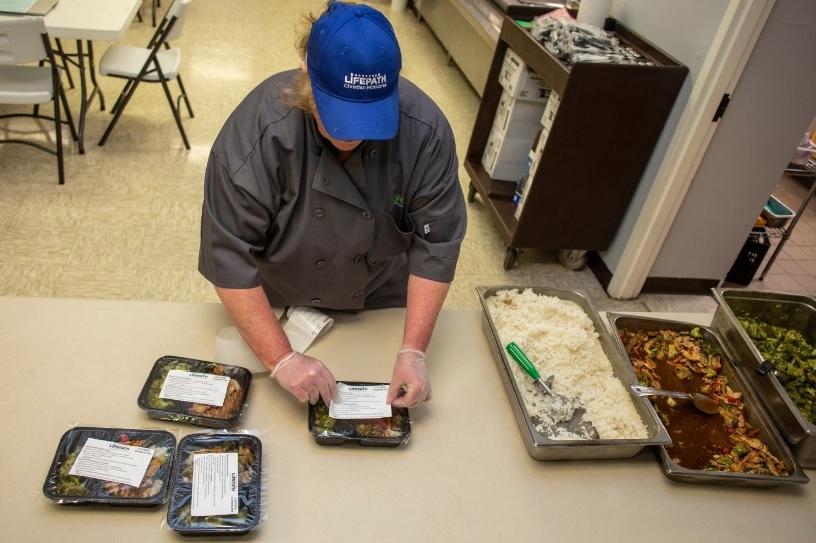 Meeting an immediate need
Penny hung up the phone and reached out to Kevin Scritchfield, LifePath's Manager of Food Services.
Earlier that week, Kevin had leased an Oliver Speedseal meal packaging system, which seals TV dinner-style home cooked meals into single-serve disposable dishes. His team trained on the machine that Tuesday and packaged their first meals on Thursday.
He immediately agreed that this was a great way to share those first packaged meals.
The family received 36 meals to get them through the weekend until they were able to get into a more permanent housing situation. When the son-in-law arrived to pick up the meals, he kept repeating, "God bless you. Thank you, Jesus!"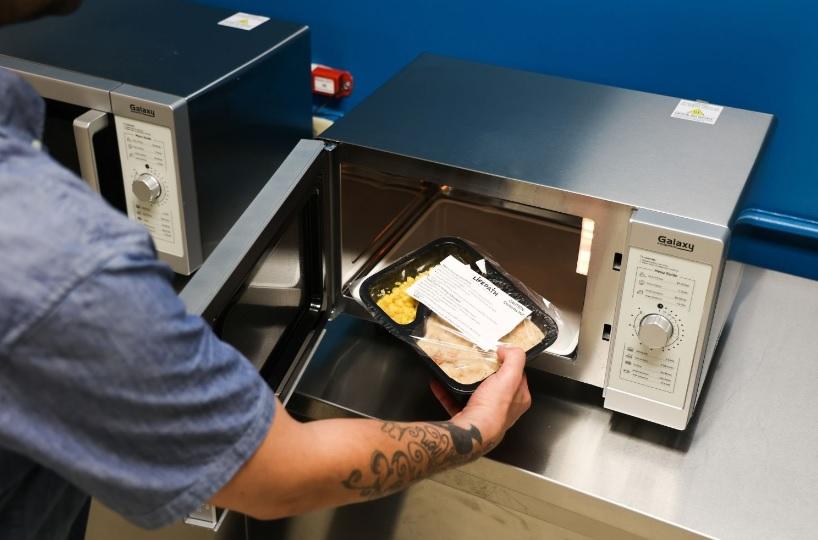 'Purpose and belonging'
Since that first experience in February, LifePath has distributed nearly 1,000 meals and has another 1,000 frozen and ready to go.
In the past, on weekends when hot meals were not available, guests at LifePath's shelters could grab convenience foods, such as cans of stew or packaged snacks from a cart. Now, they have access to two dozen different styles of prepackaged nutritious meals that contain an entrée, starch, and vegetable.
The recipes are as varied as the LifePath food service staff, who come from backgrounds as diverse as long-term care, corporate dining, and mom and pop restaurants.
The new system, which serves both the men's and women's shelters, means that when LifePath intakes a new family during off hours, they can immediately be fed a hot nutritious meal.
A donation from the Elks Lodge #213 in York providing funding to purchase the meal reheating stations, including microwaves and carts, while a grant from WellSpan Health Community Partnerships covered the cost of the Oliver Speedseal system.
Penny and Kevin see and hear the gratitude from the LifePath guests every time they enter the dining room.
"I've come over for lunch several times," Penny says, "and to see these men and women in here eating lunch and hearing the gratitude, the people who say, 'thank you, thank you, thank you — you have no idea — thank you,' I have never worked in an organization where I've felt such purpose and belonging and a sense of community as I have here."